LG Electronics has committed to replacing conventional magnesium used in its mobile phones to a more environmentally friendly magnesium alloy dubbed eco-magnesium. To be rolled out by 2012, this would effectively reduce carbon dioxide emissions by 4kg for every handset manufactured.
"Eco-magnesium is one of LG's key strategies in our ongoing effort to transform LG into a leader in more environmentally responsible manufacturing," President and Chief Technology Officer Skott Ahn said in a statement.
LG claims that almost no sulphur hexafluoride, which is used in the casting of magnesium and which LG cites as one of the most potent greenhouse gases, is created during production.
To view the rest of this article, click here.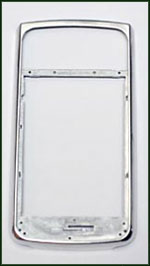 Ford Shipping All-Electric Transit Connect Vans
The New York Times (12/8, B3, Bunkley) reports, "The Ford Motor Company said on Tuesday that it had started shipping a battery-powered version of a delivery van, the Transit Connect Electric, to a handful of business customers. The Transit Connect is Ford's first electric vehicle, coming to market about a year before it plans to challenge the Leaf and the Volt with a battery-powered car, the Focus Electric." The automaker "will ramp up production in April and produce about 600 or 700 a year initially. In comparison, General Motors is building 10,000 Volts in the first year."
Similarly, the Detroit News (12/8, Rogers) reports the Transit Connect, with a price tag of $57,400, is "the first in a wave of new battery-powered vehicles slated for release by the automaker over the next two years. … The body is made in Turkey and final installation of the electric motor and battery will be performed at AM General in Livonia," MI. The automaker "has sold about 30,000 gas-powered Connects" since its release last year. Ford "collaborated with Azure Dynamics Corp. to develop the commercial van's electric technology, getting it ready for sale in 13 months."
According to Michigan Radio (12/7, Samilton), "Ford views the vehicle as a learning experience, rather than a money-maker. The Electric Transit Connect will cost twice as much as a regular Transit Connect. It could take up to ten years for customers to recoup the extra cost from fuel savings." While the automaker "doesn't expect to sell more than 700 electric Transit Connects next year," Ford's Brad Probert noted that "companies using the vans will find them ideal for well-defined routes of under 80 miles a day – the vehicle's upper limit."
Reuters (12/8, Woodall) and the Wall Street Journal (12/8) "Driver's Seat" blog also reported the story.
Several Companies See Advantages In Electric Truck Fleets. The Wall Street Journal (12/8, B1, Ramsey, subscription required) reports ont eh front page of its Marketplace section several companies, including Staples Inc., PepsiCo, FedEx Corp., and AT&T Inc. are buying electric trucks for their delivery fleets. Supporters argue electric trucks outperform cars that run on diesel or gasoline in terms of savings, including savings from energy efficiency and maintenance. Additionally, delivery trucks make more sense than other electric vehicles as they usually drive short and defined routes, making them more suitable to their limited driving range.
New Items for Sale at the Die Casting Equipment & Supplies Exchange!!
Recently, NADCA launched its newest tool to help address the die casting industry – The Die Casting Equipment &Supplies Exchange – where users can post items to sell and search items to buy, as well as place requests for an item that you are looking for. The site is easy to use and acts as a type of classified "hub" for buying, selling, and requesting equipment and supplies. For only $10, your item can be listed -complete with description, image, and asking price.
Check out some of the new items that have been put up for sale by users recently:
Prince Vacuum System – Comes with Vacuum Valve, Actuator and accessories.
Gooseneck for Kux BH-120; New and Resleeved Quantity 4. One new, never used. Two others freshly resleeveed. Onoe has been used a few days after resleeving and taken out when the machine was taken out of circulation.
---
---