Bloomberg News (10/13, Kitamura et al.) reports some suppliers of Toyota Motor Corp. "believed to be testing products four times a year were only doing so once a year, Dino Triantafyllos, vice president of North American product quality, said." The company "set out to audit suppliers in North America following its biggest recall crisis." Triantafyllos noted that the audit "found areas where maybe there was a misunderstanding about some aspects of the process. … These improvements we're making, if we'd made them two years ago, maybe some of these issues wouldn't have happened. "Hiroshi Osada, the head of "a panel formed by the Union of Japanese Scientists and Engineers to help Toyota evaluate its efforts to boost quality," said, "This crisis was a problem that came from the design-development stage," noting that "closer examination of components 'should be able to help prevent quality defects.'"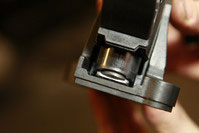 GE To Invest Over $430 Million, Create 500 New Jobs In Four US Centers
The AP (10/19) reported General Electric Co. is planning to invest "$432million to establish four US-based refrigeration design and manufacturing centers that will be the focus for its new energy efficient line of refrigerators and other appliances." The company announced Monday "the move will create 500 new jobs by 2014 and help preserve another 1,166 existing positions." According to GE, the investment "is an effort to revitalize its appliance business and take advantage of increasing global competitiveness of US factories. … GE said this will drive down costs by making the manufacturing process more efficient and improve product quality."
Bloomberg News (10/18, Layne) reported, "Factories and design centers in Bloomington, Indiana; Louisville, Kentucky; Decatur, Alabama; and Selmer, Tennessee, will open during the next four years, Fair field, Connecticut- based GE said. Designs will incorporate Energy Star standards in effect in 2014 and target the US. …Chief Executive Officer Jeffrey Immelt said in September that he planned to bring appliance jobs back from China and Mexico, because US workers were making higher-quality products for less. Employees and unions agreed to cut expenses including reducing starting wages for production employees." Campbell said GE "decided to invest at a time when the industry is suffering so that GE will be ready when business picks up with new products."
Commenting on the move, the Wall Street Journal (10/19, Sechler, subscription required) reports, GE CEO James Campbell said, "This is a big commitment on the part of GE to really transform the business and put us in a much different place over the next couple of years. … Our US plant can and will be competitive in the production of these products." The company noted a total of about $78 million of local government, state, and federal incentives.
Manufacturers Discuss Product Counterfeiting, Piracy With Intellectual Property Enforcement Coordinator
TMCNet (10/13, Silverstein) reported, "Representatives from the National Association of Manufacturers (NAM) met in person with US Intellectual Property Enforcement Coordinator Victoria Espinel in Illinois to discuss the growing problem of intellectual property theft." The Manufacturers said that the industry "continues to face a growing threat of product counterfeiting and piracy around the world, especially in China. Intellectual property theft overseas continues to harm US exports and negatively impact manufacturers' ability to create jobs, according to the NAM."
Discuss Die Casting Design
Do you have a question related to die casting, would you like to discuss the topics in this newsletter further?Feel free to visit the NADCA Die Casting Message Board at: www.diecasting.org/forum/ and register to start discussing your die casting design topic!
---
---