Bloomberg New (11/3, Naughton) reports, "US auto sales, fueled by closeout deals and pickup promotions, 'broke through the glass ceiling' in October to achieve the highest unaided pace in more than two years," according to George Pipas, Ford Motor Co.'s sales analyst. "Industry wide light-vehicle sales topped a 12 million annual pace last month, Pipas said today in an interview. That's the highest rate since September 2008, excluding the spike in sales from the US government's cash-for-clunkers incentive program in August 2009, he said." According to Pipas, "this is certainly a good sign and an indication the fourth quarter will be higher." The Wall Street Journal (11/3, Boudette, subscription required) also carries Pipas' remarks.
Tuesday Reports Show Increases In October Sales For Some Automakers. The AP (11/3) reports, "A handful of automakers reported Tuesday that their US sales increased in October from a year ago. … October sales are expected to come in slightly below 1 million vehicles, hitting around 12 million on a seasonally adjusted annual sales rate." Other "automakers, including Ford Motor Co. and General Motors, [are] expected to come out with their numbers Wednesday
Outdoor Power Equipment, Snow Throwers Help Briggs & Stratton Improve Sales
Briggs & Stratton's first quarter fiscal 2011 consolidated net sales were $334.1 million, up $9.5 million or 2.9% from the first quarter of fiscal 2010.
The $9.5 million consolidated net sales increase was credited to increased international engine shipments and improved sales volumes of lawn and garden equipment and snow throwers, offset by lower sales of pressure washers and portable generator products.
To view the rest of this article, click here.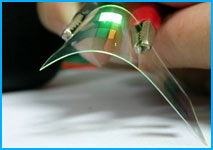 Lighting Industry Looks To OLED Technology
The Wall Street Journal (10/27, B7, Ramstad, subscription required) reports that as the lighting industry faces a switch from incandescent light bulbs to more efficient versions, some companies are looking to a bright display technology called OLED, which is used primarily in cellphones right now. The technology uses less energy than traditional light bulbs, and is almost as efficient as fluorescent light bulbs in laboratory testing. It also produces light whose color is closer to natural light than the two traditional bulbs. However, the cost remains prohibitive, as a small panel of OLED lights would cost more than $100 to produce now.
Discuss Die Casting Design
Do you have a question related to die casting, would youlike to discuss the topics in this newsletter further?Feel free to visit the NADCA Die Casting Message Board at: www.diecasting.org/forum/ and register to start discussing your die casting design topic!
---
---